A few Christmas ornaments we made:
3 craft sticks (popcicle sticks) glued together in a triangle shape, school glue smeared all over with glitter sprinkled on top. Voila...a Christmas tree! Right? We thought so.
I bought a mitt-shaped wooden ornament, slapped some paint on Juli's hand, stamped it & outlined it in glitter. I wrote her name and the year on the back with a Sharpie. It's not fancy but we'll appreciate it when she's older. Also, a pine cone spray painted silver.
Food!
Juli loves pizza. She said she wants to marry it.
So that I don't feel so guilty feeding her pizza too often, I started making it on a flour tortilla. Kinda like a thin crust pizza. It still has 12 carbs but that beats a regular crust with thirty something carbs.
We layer it like so: tortilla, sauce, parmesan, mozerella, cheddar, pepperoni.
(that's mine on the right with pepperoni, cherry tomatoes, & bacon)
I usually bake it on about 350 for 10-12 minutes or just until the edges of the tortilla are nice and crispy.
So I got this bright idea that I could make a pretty cake for the kids Baptism.
Let's just say it'll be sheet cakes for me from now on. No layers, no trying to be pretty.
Our ginger bread men:
Daddy on the left, complete with red beard & plaid shirt. Peter Griffin on the right.
Not only did I make this gorgeous baby boy, but I hand embroidered that whale on his onsie.
Jonah & the whale.
My first crocheted granny square came out pretty good! That's pretty much all I had time to make. One.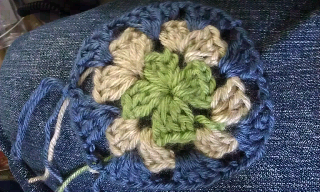 Once I attempted pretty organization. I bought some baskets, went to home depot to pick up some formica chip samples & chalkboard spray paint. I spray painted the formica chip & tied it to the basket with some yarn. I also have a basket labeled for sweets. Go me!
So there's some of the crafty stuff we've done recently. There's a bunch more but that's all I've got pictures of so far!